I am so happy you've joined me in the world of
Wings, Worms, and Wonder!
This is THE place for all things children's gardening and creative nature connection.
Wings, Worms, and Wonder is chock full of fun how-to tips, tricks, activities, ideas, and resources for humans who:
*want to create hands-on nature experiences for children that spark wonder, build life long connections with the natural world, and uniquely weave gardening into the classroom and daily life
*seek a deep and nourishing connection with nature through the arts and organic gardening
*are interested in the connection wonders of nature journaling – novice or experienced
*crave a supportive creative guide and community to share their nature journal experiences, laugh over gardening mishaps, to ask questions about everything art and nature, and to travel together through the wonders of our everyday nature with!!
AND now that you've subscribed, you won't miss any of the fun!! (Or the freebies, perks, secret flash sales, and deals that only subscribers get!!! Yay!!)

Each month, on the 2nd and 4th Wednesdays, or Wonder Wednesdays as I like to call them, you will receive a letter form me full of virtual seeds to sprout in your garden and life including:
*lesson plans and activities
*recipes
*freebie video tutorials, printable fun sheets and coloring pages, and more
*updates on workshops, courses, and the latest and greatest
*seasonal gardening tips
*resources for grants and more
*& so many awesome things I can't even list them all!
Now that you're here, be sure to:
Check out all the great offerings in the About and Work With Me tabs
Follow Wings, Worms, and Wonder on Pinterest,  Instagram, Facebook, or Twitter and Periscope to stay up on all the fun.
Check out he Etsy Shop to explore the Nature Journal Prompt Cards, the book Wings, Worms, and Wonder, and my eCourses, and more!
Share pics of your Wings, Worms, and Wonder inspired activities on Instagram #wingswormsandwonder Do this!! I want to see the nature that surrounds you!!
Follow the blog on Bloglovin' so you won't miss a post
Now for your first Freebie!!!
Download your 12 Months of Wonder Wednesday Activities eBook!!
Inside, you'll find 12 of my favorite Wonder Wednesday activity lesson plans compiled in a special way for your convenience and enjoyment. Within this one eBook, you have enough activities to keep every month of the year sparked with wonder and creative nature connection! Consider making every Wednesday a Wonder Wednesday in your home or classroom!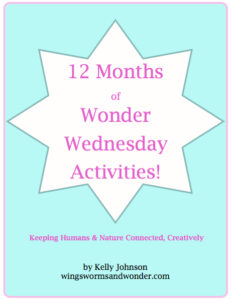 Click this link to download the pdf – Wonder Wednesday subscriber opt-in bonus pdf
And click here to watch the video that accompanies the UpCycled Seed Starter Pots Activity
And because this is so fun…
…and I like to give you extra surprises, here's a make a Pocket Nature Journal video tutorial!
You only need one piece of regular paper and a pair of scissors to make this fun on-the-go little journal. This simple journal is really fun to make and is quite useful. Make a different journal to creatively document every outing – from the museum to the nature trail.
Get your written instructions in this Pocket nature journal pdf  and watch the tutorial below!
Again, welcome and thank you for subscribing.
I am so glad you're here and look forward to getting to know you as we journey through our big beautiful, biodiverse world creatively!! If you ever have any questions or want to share, just email me through the contact tab on the site. I love to hear how you make these ideas your own and adapt them to me the nature in your backyard!